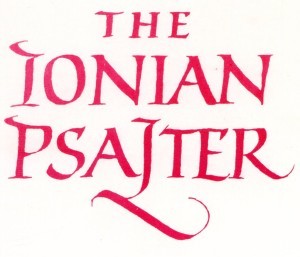 This page is provided to assist customers who have already purchased the Ionian Psalter. If you would like to purchase the Ionian Psalter, please click here.
Check your inbox for an "Order Completed" email from info@ionianarts.com. The email contains your download link for the Psalter. This message is generated automatically by our web server upon successful payment; sometimes this message gets routed to your Junk or Promotions folder. You may click on this link once within seven (7) days of purchase. No password is required to access the download. However, you are not to forward the files to anyone outside your organization. Thank you for honoring our request.
INSTRUCTIONS:
After clicking the link, your browser will begin downloading a large .zip file to your downloads folder.
Go to your downloads folder; you may need to double-click on the .zip file to extract it.
Move the extracted file IonianPsalter2 somewhere on your computer you will remember.
Double-click on the file and browse the choir, handbell, and organ scores, and bulletin inserts. These are divided between canticles and psalms, and then sorted by number.
Note that each folder contains preview .jpeg images of the various PDF files. Print from the PDF files.
---
If you have any problems with your download, please phone us at (808) 221-9608 or email us.